Social Directorate
The main aim of the NUS Medical Society Social Directorate is to bring the students of YLLSoM together—beyond our immediate social circles, beyond each batch, and beyond our faculty (ie. with Nursing and Pharmacy)—to create unique moments of interactions and friendships.
Students are often isolated in their daily social circles, perpetuated by the pre-assigned House System and Tutorial groupings; or are unknowingly trapped in their spiraling busy schedules, that leave little or no time for genuine person-to-person interactions. However, more often than not, students want to go beyond their everyday circle of friends, but find it difficult to do so. This is where we believe Social Directorate comes into the picture. We focus on creating opportunities for students from diverse social groups to gather together, by breaking down the barriers of awkwardness through our events. Only so, can students are then able to seize these opportunities to create moments of their own with the new people they meet or reinforce ties with the old. We believe that by enabling avenues for this first step to be taken, it will facilitate the creation of long lasting friendships ahead, in order to truly reach towards our goal of establishing an interconnected, inter-professional partnership in the future as healthcare professionals.
Core Events
Medical Dinner
In July
Medical Dinner is a formal dinner for the graduating batches of Medicine, Nursing and Pharmacy to celebrate the importance of inter-professionalism in the healthcare sector. Social Directorates from all three faculties came together to plan the Medical Dinner 2017, where graduating students were treated to an IPE performance involving dancers from Medicine, Nursing, and Pharmacy! Graduating students spent an evening together reminiscing on their fun and vibrant undergraduate years before being thrown out into the real working world.
White Coat Ceremony
In August
This marks the commencement of the medical school journey, and even more so the commitment one promises to lifelong learning, while upholding the standard of professionalism and providing compassionate care with the patients' best interests at heart. Parents are invited and performances by medical students are showcased, to mark down this incredibly special milestone.
Dinner & Dance
In August
This officially marks the end of Orientation and signals a new beginning for the incoming freshmen. A night to showcase the talents in the batch through performances and pageant items; to work together in their houses to emerge victorious in the series of competitive games; and to simply celebrate and immerse in the company of each other, as batch mates to go through the next 5 years of medical school together. 'Las Grandes Eras', the theme of D&D 2017, brought the M1s through a time travel from the 1920s all the way to the 2000s, and focused on celebrating the start of a new era of the start of their medical school journey.
Valentine's Day
In Feburary
A day of free food, sales of cards and gifts of appreciation to be dedicated to those special around you—to keep your tummy and heart full! In 2017, a welfare dinner was catered for batch mates to gather while enjoying performances from our friends at Arts & Culture D!
Other Initiatives
Movie Marathon
In November
Back-to- back movies screened throughout the night, voted by popularity ranging from horror, animated films, to family/drama. A night for M1s and M2s to celebrate post-exams and for upper Ms to sit back and take a mid-week break from the intensity of clinicals.
New Year New Me
In January
A great time for students to start off their new year with fitness classes choreographed and led by our very talented and enthusiastic Medicine Dance Crew! Held at YIH Student Plaza, mass Zumba was an exciting activity for everyone to put their stamina and coordination to the test! Students got a chance to indulge in FREE handmade acai bowls from An Acai Affair after their intense workout! Look forward to more fitness events organized in partnership with Sports D this coming year!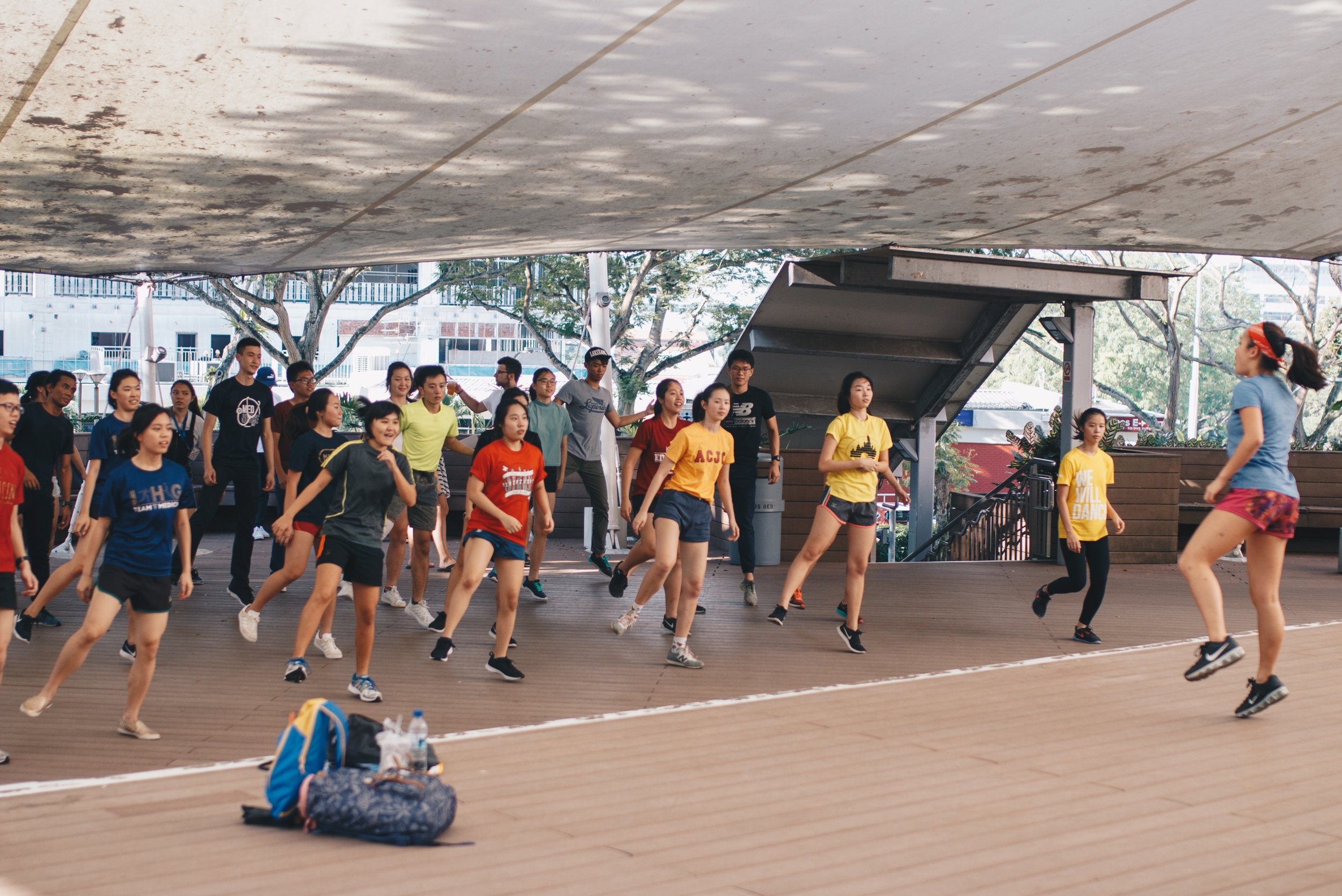 Medicine Big Hunt
In March
Proudly sponsored by Great Eastern, our very first Medicine Big Hunt was held in March this year. Modelled after the Sqkii challenge, which sent students on a rat race around the NUS campus to search for $800 in cash, MBH was organized to promote interaction between students from different faculties. To obtain higher level clues in order to have a higher chance of stumbling upon the $500 cash, this 3 day event saw participants scrambling to take the best SnapChat dog selfies with seniors they have never spoken to before, or filming the most creative boomerangs with students from our sister faculty!